From Seattle WA To N Palm Beach FL
A journey that began in a forgotten garden led Caroline Elliott, the creator, to make a line of ceramic art aimed to protect, purify and empower. Honoring the spirit of the Burnt Thistle, each piece of her ceramic artwork is inherently protective in its symbology, purpose and design.
Learn More
Discover our dinnerware and tabletop collections and select the design that works for your sacred space. Each piece is handcrafted and handcarved, yet durable making them perfect for everyday use. Food safe, dishwasher safe, microwave safe.
View the Collections
From everyday items like Burnt Thistle's signature snake dish or tableware collections, to sacred wall hangings and altar dishes. Motifs range from the cosmic to the divine, frequently incorporating the healing energy of the snake and the cyclical nature of the moon phases. Caroline trusts that you will find your own meaning in her ceramic art and that it serves you well. 
New items are always added to the Burnt Thistle Etsy shop.
Shop Now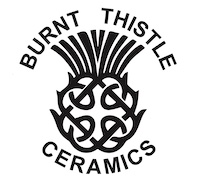 Shop on Etsy
Trademark of Burnt Thistle Ceramics